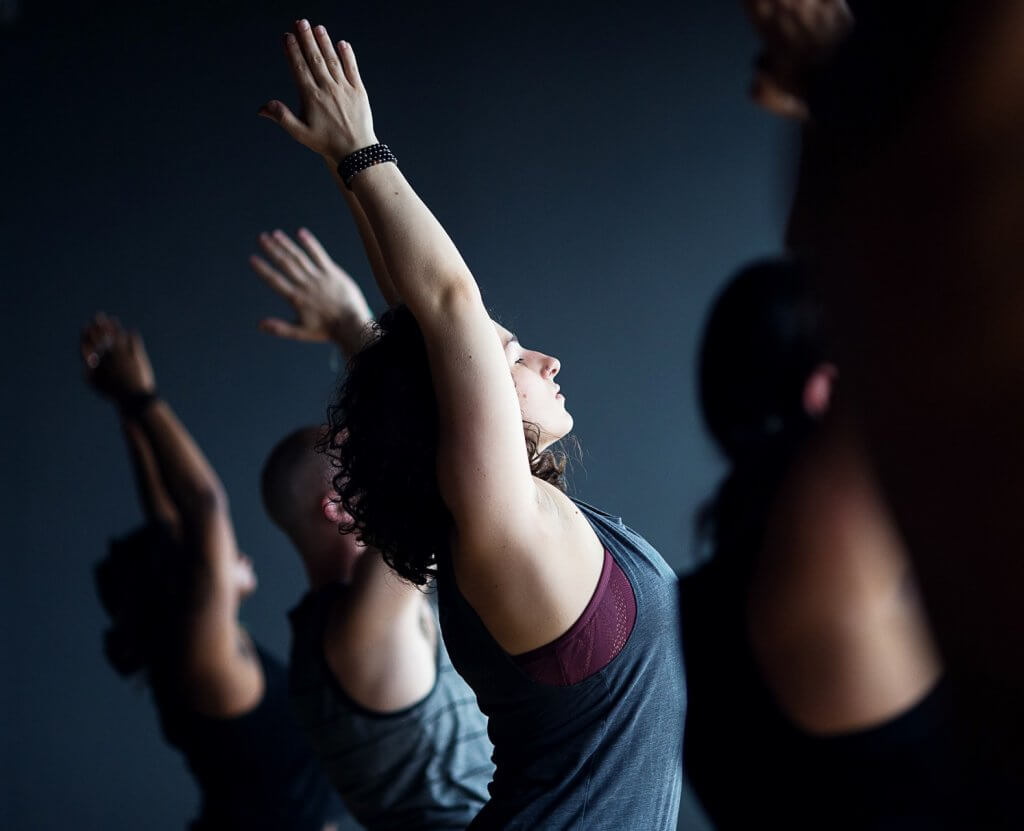 PRACTICE
YOGA AT SUTRA
SUTRA offers an array of classes designed to fit your practice. From vinyasa and power yoga based strengthening, introspective kundalini, yin, to restorative, meditative and gentle, a variety of classes are available for you to explore your experience in the physical practices of yoga. All classes incorporate mind training and breath-work offerings.
Class Descriptions
SUTRA STUDIO offers an array of classes designed to fit your practice. Vinyasa based strengthening, meditative and gentle, as well as community classes are available for you to explore your experience in yoga.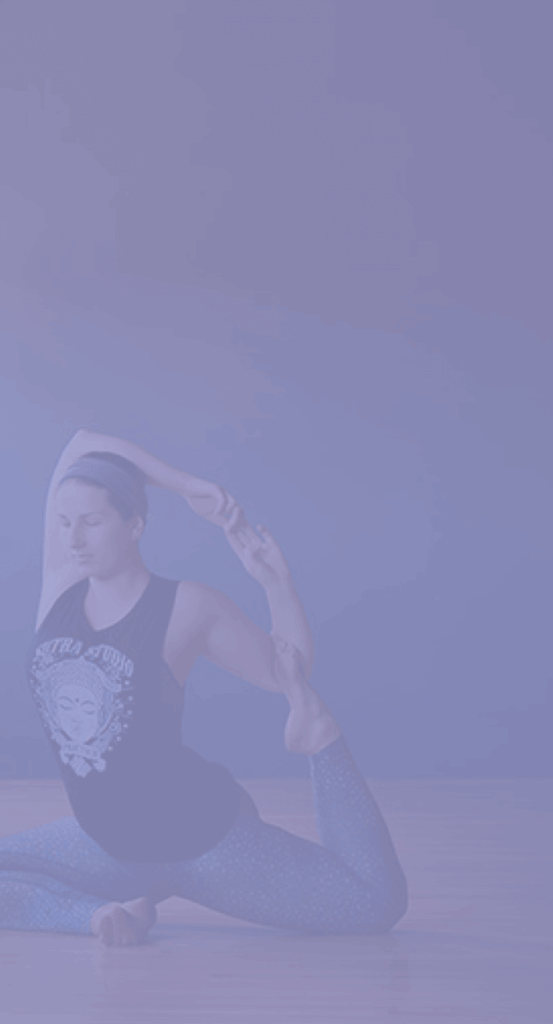 Vinyasa Flow yoga links movements and postures to breath, encouraging the development of strength, flexibility, mental focus and stamina. Vinyasa Flow classes provide a full body workout to enhance balance and endurance both physically and mentally.

In All Levels classes, teachers create an encouraging space for students of varying abilities to enhance and modify postures to fit their practice and practice goals. Each teacher offers different variations and styles of vinyasa, so be sure to try as many teachers as you can!

Vinyasa Flow classes are warm, with a room temperature of approximately 75˚F – 80˚F

Incorporating all of the intention of the Vinyasa Flow class, "Vinyasa Flow + " classes offer flowing transitions, arm balances, inversions and exploration of deep postures.

These classes are warm, with a room temperature of approximately 75˚F – 80˚F

*Students attending these classes are encouraged to have a regular yoga practice.

Mindful Flow incorporates all of the Vinyasa Flow class elements with a focus on mindful or meditative movement. Incorporating more breath work and visualization –  Mindful Flow classes offer space for students to deepen within their own practices at a mindful pace.

Fundamentals classes emphasize safe alignment to create a strong foundation for a regular yoga practice. These classes are excellent for those who are newer to yoga, as well as experienced yogis looking for a slower paced class with detailed instruction and exploration.

Breathing, strengthening, stretching, and balancing techniques are introduced in an encouraging and supportive environment.

Friday Night Flow Down is a delicious blend of vinyasa practice and deep stretching and floor work—the perfect way to end the week and start the weekend.

Classes encourage self expression and exploration through asana, meditation, and music. Expect to feel blissful after class and ready to take on the weekend at whatever speed you need.

An alignment focused vinyasa flow, Slow Burn combines meditative techniques in exploring both energetic strengthening postures as well as floor-based yin-inspired lengthening and restoring poses.

A slow flow class on the surface, Slow Burn allows practitioners to move deeply into postures and tap into the meditative quality of asana practice.
Be prepared to sweat.

Halcyon [ Hal-see-uhn]

A tranquil practice focusing deeply on the natural rhythms of the body. In this variation of Vinyasa Flow, the teacher will integrate minimal amounts of music and allow the vibrational qualities of one's own physical form to create harmony.

SPA Yoga is a 75-minute slow flow floor-based yoga class. The physical practice focuses on opening all energetic points of the body to leave the practitioner feeling blissed out. We will end with a relaxing 15 minute guided meditation.

SPA classes feature extra hands-on assists and massages, a calming candle-lit atmosphere, delightful scents and beautiful music. Be prepared to feel like you just walked out of a SPA!

These classes are warm, with a room temperature of approximately 80˚F

Gentle flow emphasizes breath work, mindfulness and simplicity. Exploring common postures, students can expect a calming flow that leaves space to discover a sense of kindness and friendliness to self that may even lead to sharing those qualities with others.

This class is great for all levels.

Time to slow down, and breathe.

Come back to balance with restorative yoga, a rejuvenating practice for the body and mind.

In restorative yoga, the practice is supported by bolsters, blankets, blocks, and other props, which allow the body to gently and passively open.

This style of yoga is open to everyone in every "level" of practice.

Please inform the teacher if you have any limitations.

Attendees are welcome to bring their own eye pillows.

A hybrid class of intensity and calm to start your weekend like a warrior, inside and out.

Class begins with breath work (pranayama) to awaken, and proceeds with 30-40 minutes of vigorous, sweaty yoga practice to activate and open the body.

Class concludes with a guided meditation to ease the mind and create focus and intention for your day.

This class is the perfect combination of breath work, asana (postures), and meditation to kickstart your weekend like the badass you are.

Rise & Flow is your hour to truly rise and shine. Refreshing and invigorating, this practice is the perfect way to start your day.

Class begins gently, easing you into the energetic portion of your practice, and then infusing you with new energy as you head out into your day.

This class will replace your morning cup of coffee with a practice awakens the body & mind and sets you up for success, regardless of what your day may hold.

Community Yoga + Pop-Up Community Yoga

Community yoga classes are taught by a rotation of instructors and are offered at a discounted price, ensuring access to yoga for students with budgets of all sizes. A variety of teachers, mostly those newer to teaching yoga, or those new to our SUTRA community will offer different styles of teaching and types of classes. 

 Money offerings collected help support the studio being able to continue to offer discounted classes. It also helps the studio support  the continued education of recently graduated teachers or teachers new to the studio.  In some cases, a portion of the money collected is donated to a local charity of the teachers choice. 

Offerings start at $10 and go up from there. Your investment is greatly appreciated, and will ultimately benefit the community in many different ways.

Power Flow is a strong and sweat-inducing practice. Aligning breath with movement, this class is great for vinyasa lovers that are looking for a physical challenge. Practitioners can expect to build strength, stamina, and energy through a vigorous flow.

Meditation is guided by a rotation of teachers and offers various contemplative and mind training techniques to encourage a more mindful existence.

No experience is necessary. Feel free to be guided or use this time as an opportunity to find serenity with your own personal meditation practice.

Sacred Sound Flow enriches the senses with a fusion of vinyasa flow and healing vibrations. Body and mind are engaged as the yoga practice develops strength, flexibility, and stamina while the healing sounds encourage mindfulness, relaxation, and restoration.
NEW TO YOGA?
Trying something new can be intimidating, so we have tried to answer some common questions and give advice based on our own experiences to encourage a fun and relaxed environment for those new to the practice yoga asana (physical movements).
Remember not to take yourself too seriously and just be. You are trying something new, and that in itself is a win! If you have further questions, please feel free to call or email us. No question is a bad question!
new TO SUTRA special
$30 FOR 14 DAYS!
Offer exclusively available to new students only.
What should I wear to yoga class?

Yoga is a practice of physical movements that may make you sweat. Wear comfortable clothing you can easily move around in. Yoga involves a lot of bending and stretching, so clothes that fit snugly but without constraining your movements will probably be best; super baggy athletic gear can get in the way. After a few practices, you will get the sense of what clothing might support you in your practice best. It is different for everyone.
Shoes are not worn in the studio, and are removed in our lobby. Socks should be removed on your mat.

What should I bring to yoga class?

What to bring:

A yoga mat. SUTRA offers mat rental ($3.00)

A bottle of water. A complimentary water bottle-filling station and bottled beverages are available for purchase.

A towel. If you forget yours, SUTRA can supply a rental towel for your practice ($1.00)

An open mind. Give yourself a chance to be surprised by your own practice. Try not to have too many expectations, and remember: everyone who finds yoga is looking for yoga. We are all in this together.

What not to bring:

Valuables and excessive items. SUTRA provides small storage areas within the studio and practice space.

Please make sure your phone is turned to OFF or silent and stored away

for class times, as not to distract yourself and others. Give yourself a break.

Expectations.

Illegal or dangerous items.

Please DO consider our studio as a sacred space that is your own, and treat it with mindfulness.

Try not to eat a meal any closer than 2.5 hours before your practice time. If you are really hungry a light snack prior to practicing may be helpful, or consider a nourishing juice or water.

You may find yourself wanting to eat mindfully after class, so enjoy that time!

If your class time is later in the day, consider eating something light an hour or so before class and then something light after class.

Moving mindfully and quietly when within the practice space to be respectful of others experiences is always a good idea.

Cleaning your own mat or rental mat after class is a nice way to keep your downward dogs fresh.

Make sure cell phones and other electronic devices are off or silent prior to class.

A clean body gives way to a clean mind. Please do not wear perfume or cologne to class, as some practitioners are sensitive to scents.

When practicing in a community setting, consider that you are practicing together in a shared space to share energy. A mindful practice includes turning inward for a deep practice but also being respectful in sharing space and positive energy. Introduce yourself to your community.

Other mindful studio practices:

Check in online if you can. If you can't, stop in at the desk and we'll sign you in.

Introduce yourself to the team and teachers.

Welcome your fellow yogis.

Please be respectful of others with your silent cell phone (if you need to take calls, step out into the hallway).

Honor the sacred space of SUTRA with as much love as we do.

Spread the word!

Ask!

Participate.

Smile.

Breathe – like you mean it.

Try to arrive 15-20 minutes before your first visit to our studio, so that you have time to get settled, fill out our enrollment papers and have a tour of the space. Early arrival will also allow you to get connected with our team and the teacher if you have any concerns or would like to let us know more about you.

Teachers aim to respect our students' time by starting and ending classes on time. If you arrive late, please enter the practice space after the "OM" or when students begin to move.

Please move mindfully and quietly within the practice space, with the aim of respecting your fellow practitioners' experiences.

Please place your shoes neatly within our lobby and store your belongings in a storage space (available inside each of our practice spaces). Taking fewer items to your practice spot will reduce distractions, clutter, and obstacles for teachers and assistants.

Use the restroom before or after class, and if you need to use it during class, move quietly and mindfully.

What can I expect in a yoga class?

Try not to have expectations; instead, try to have fun. You just might surprise yourself!

The yoga class is a combination of mind, body and spirit. Classes may integrate breathing exercises (Sanskrit: pranayama), meditation, strengthening + stretching movements, movements to increase balance and practices to increase mindful awareness.

Try going to an all-levels class with a slower pace or a fundamentals class to get familiar with the postures (Sansrkit: asana), which will then be sequenced and presented in various ways depending on the class style and teacher. Let your teacher know if this is your first class.

Is Yoga a religion, voodoo, witchcraft or magic?

No. Although yoga relates to many world religions in the sense that the practice values a connection to spirituality and soulfulness, there is no religious context to a physical yoga practice. You may see many icons within our space, as a reminder of their mindful qualities and awakened nature.

I have no idea what I am doing, can I still come to class?

Of course! Even yoga practitioners who have practiced for decades are surprised by what they don't know; yoga practice is limitless, so if you're doing it right, you'll always feel curious and excited by the possibility of moving beyond your perceived limits. If you are new to the practice, it is recommended that you set up your mat space in the back of the class or middle so that you have other people to follow along with easily. Consider also joining a Fundamentals Flow class or attending a Beginner's Workshop.

Do I need to be flexible? I can't even touch my toes!

You do not have to be flexible to practice yoga. Students become flexible from practicing yoga. We aim to create a safe environment for practice that carefully opens the practitioner's body so that over time, flexibility increases. Students who are naturally flexible will also find opportunity to develop strength in their muscles and mindful movement to complement flexibility.

What is the whole chanting thing about?

In many yoga classes, students are encouraged to follow along in a mantra or chant. Most often it is the sound of "OM". You may join in or just listen.

OM (aum) is a Sanskrit word that you'll frequently hear at the beginning and end of classes. The practice of mantra is a mind-training tool, intended to unite practitioner with a calm, clear sense of presence.

Are classes open to men or is it all women?

Dudes are welcome! We encourage people of any background, age*, gender, sexual orientation, skin color, size, shape, hair style, music preference or Hogwarts House to join us in yoga, meditation, dharma and more.

Please feel welcome, because you are.

*SUTRA adult classes. Please see FAQ about kids classes vs adult classes.

My _______ often hurts, can I still practice yoga?

Yoga is not a substitution for medical attention or therapies. You should seek approval from your doctor before committing to any exercise program.

SUTRA teachers and therapists will work hard to create a supportive environment for your growth through alignment modifications and modalities that we are familiar with, but the SUTRA team nor the practice of yoga is a substitution for medical attention or advice, or physical therapy.

Physical yoga practice should also be conducted in moderation with appropriate mindfulness in safety to have an enjoyable experience.

We also offer private lessons and special "supervised classes" to help meet your challenges.  Please contact us for more information.

Do you offer kids classes? What if I have my kids with me?

All SUTRA adult classes are age 18+.

Teens 16+ may attend SUTRA adult classes with a waiver and consent form signed by a guardian. Teens do not have to have a guardian present with them while participating in yoga, meditation, or workshops. SUTRA reserves the right to ask unruly teenagers to leave or even complete chores if they are disrespectful of the space, teachers, or other students. At this time we cannot accommodate students under 16 in regular classes.

Young Adults (ages 13-15), Kids Classes, Mommy + Me workshops and classes may be scheduled in the future and will be offered on our online schedule and updated through our newsletter when said classes are available.

Yoga in various forms has been practiced in many different traditions and styles over the last few thousand years. More recently within the last 100 years, we have come to practice the "asana" practice you may recognize from pop culture or modern representations of yoga. A few reasons how yoga could improve your life are listed below. But heck if you don't believe us – google it.

To breathe better.

Increase flexibility, strength, balance, mental focus, and elevates mood.

De-stress and find calm.

Enhance the mind/body connection.

Get better sleep.

Feel better physically, emotionally, spiritually.

Encourage your personal creativity and productivity.

Encourage a healthy and mindful lifestyle.

Boost your confidence.

To find yourself.

Join a community of awesome people.

Muscular and cardiovascular health.

MindBody Online Account Questions?

If you have MBO(MindBody Online) account questions regarding your memberships, scheduling or trouble logging in, please email our masterminds(managers) at info@sutrastudio.com or give us a ring at (844)337-8872. All account changes must be submitted in writing to our general inbox.

Should I sign up online for classes?

Yes! Sign up and show up early to ensure your reservation  in our classes. Many classes may sell out and require pre-registration.

Do you have more questions?

Feel free to send us a

message

or email us

OR

Call us at (844) 337-8872

OR

Stop by in person. We don't bite and we can give you a tour of the space 😉